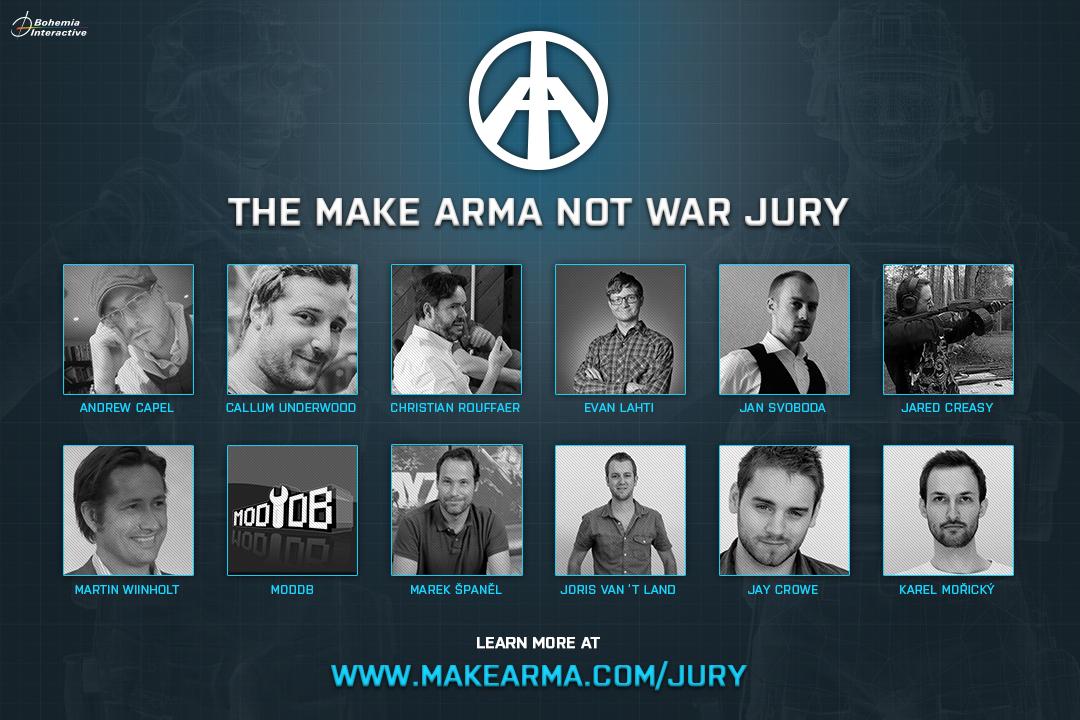 MAKE ARMA NOT WAR ARMA 3
CONTENT CREATION CONTEST
It is with a sense of glee and pride that I announce my involvement (as a representative of RG) in the MANW competition. After working to build RG as a hobby for nearly 8 years, It is awesome to be working alongside some of the biggest names in the armaverse. Reality Gaming is a passion for us all, our success is the result of our hard work and your dedication to this great community.
Thank you everyone here who helps make the magic at RG, a Reality.
WHO IS IN THE JURY?
The Make Arma Not War jury consists of Bohemia Interactive representatives and other industry professionals. Find out more about the jury members here.
About the competition
Welcome to Bohemia Interactive's €500,000 Arma 3 content creation contest. Building upon the Arma series' strong heritage in modding, we're challenging people to deliver their best work yet. With cash prizes ranging from €20,000 to €200,000, spread across four different categories, this is your opportunity to move onto the radar of hundreds of thousands of Arma 3 players. And even when you're not competing, you can still participate by helping contestants, supporting projects, and boosting morale.
There are four categories to compete in: Total Modification, Singleplayer Game Mode, Multiplayer Game Mode, and Addon. The headline prize is reserved for the Total Modification category, where the sole victor will be going home with €200,000. In the other categories, the prize money is divided between 1st place (€50,000). 2nd place (€30,000) and 3rd place (€20,000). The winners of each category will be announced in March 2015.

Make Arma Not War - Let's take it to the next level.