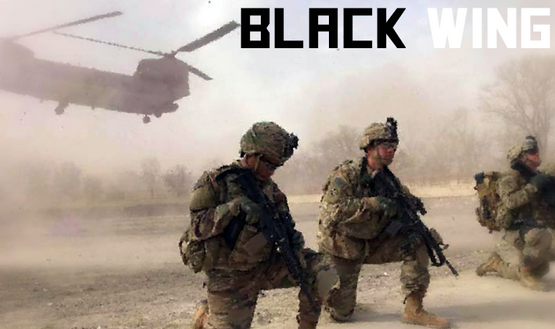 By RG Icarus
60 PLAYER MAXIMUM
Black Wing
WARNING ORDER TASK FORCE RG
ISSUE DATE: 13/06/2019
ISSUING STATION: SACEUR
ISSUING OFFICIAL: Unknown
COMMANDING OFFICER: Capt. Stabcon

SITUATION
As the US Army was starting to hand over control to the Afghan Army, slowly but surely the Taliban made a return. After losing control of the southern airfield, the UN was positive that immediate help was going to be required in the region once again. As such, TFRG has been flown in to take emergency action.
Equipment:
RG will have the following available:
2x Apache AH1

2x A-10C Warthog

4x HH-60A twin M2

2x CH-47F

6x M1232 (M2) MRAP

1x M1237 (M2) (RHINO) MRAP

1x M1236 (Mk19) (RHINO) MRAP

2x MTVR (Ammo)

1x MTVR (Refuel)

1x MTVR (Repair)
MISSION
----------------------
Operational Plan
As per command
Squad operational intent
Gambler
Restore supply line by retaking MikisFob

Bring supply trucks to GreenCampBase

Assault surroundings of Kinduf Airfield, based on intel from Talon, as a distraction for Vegas

Capture Abdul-Aziz
Talon
Transport Vegas to Camp Endurance

Optional: Destroy AA net near Kinduf Airfield & IbanCampBase

Provide cover and intel for Vegas as they travel towards Mafaraz

Provide cover and intel for Gambler as they push in on Kinduf Airfield

Reinserts / Resupplies
Vegas
Travel to Camp Endurance (037007)

Travel to Mafaraz (052103) without being detected

Confirm Abdul-Aziz is on site and gather further intel on the town

Capture Abdul-Aziz
ROE: Tight


COMMAND AND CONTROL
----------------------
Capt.Stabcon will be in direct control of the RG Task Force operation.



Signups are now open and it is mandatory to RSVP or post LOA