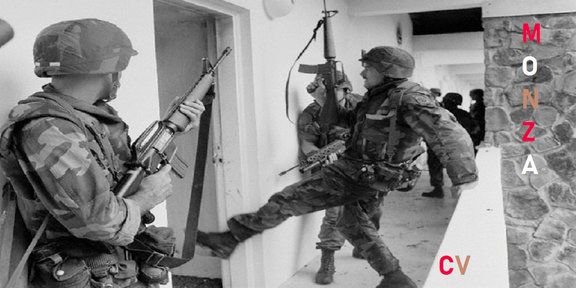 By RG Caesar
60 PLAYER MAXIMUM
MONZA 1
WARNING ORDER TASK FORCE RG
ISSUE DATE: 16/05/2019
ISSUING STATION: SACEUR
ISSUING OFFICIAL: Unknown
COMMANDING OFFICER: Capt. Stabcon

SITUATION
Since the insurrection three years, the republic of Tanoa has split along factional lines. The goverment and republic forces hold the mainland and the capital of Georgetown, but simmering under their "control" are frequent in-land ambushes, public assasinations and missing loyalist officers. In a bolder strike, the Sahrani Liberation Army forces have blockaded the bridge to Tanouka Island. With an arsenal of stolen helicopters and a serviceable runway, the SLA are raiding with impunity across the south of Tanoa.
TFRG are half way through a training rotation based out of Guam with Gold Squadron, DEVGRU. CENTCOM have seconded TFRG to assist in offensive operations against the SLA. Wary of a massacre of under-trained loyalist troops, and the possible image and political fall out, Gambler is to conduct a lightning parachute assault against SLA infastructure on the Island. Talon will be in support whilst Vegas headhunt cells based in the mainland. Locating and exploiting these cell HQs

Equipment:
RG will have the following available:
2x Hercules C4

3x UH1H Transport

2x LAV25A1

1x C130J VIV

1x MH47E

2x UH1H Gunship
MISSION
----------------------
Operational Plan
As per command
Squad operational intent
Gambler
Conduct Direct Action (DA) Raids onto SLA Infastructure

Apprehension of SLA personnel where possible (No Intel, presence confirmed by attendance at Mission sites).

Seizure and destruction of arms and assets (stolen HIDF weapons, vehicles)

Show of force in support of Horizon Islands Defence Force.
Talon
Aerial observation of Strike Group mission sites.

Battlespace control.

Precision CAS on SLA forces.

Insertion and Extraction of RGTF.

Delivery of heavier assets to the Island via paradrop.

Maritime patrol and interception.
Vegas
Infiltration of SLA Mainland cells

Sensitive Site Exploitation (SSE) of mission sites
ROE: Tight


COMMAND AND CONTROL
----------------------
Capt.Stabcon will be in direct control of the RG Task Force operation.



Signups are now open and it is mandatory to RSVP or post LOA