By RG Villhelm
60 PLAYER MAXIMUM
Operation Halmazag

WARNING ORDER TASK FORCE RG
ISSUE DATE: 27/02/2019
ISSUING STATION: Highroller
ISSUING OFFICIAL: LtCol.Andrews
COMMANDING OFFICER: Capt. Stabcon

SITUATION
Message follows: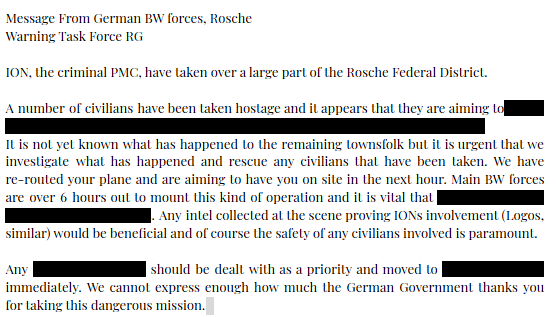 Enemy Forces
ION Forces are heavily armed, and have managed to procure a number of high-end weaponry. They have however concentrated on infantry gear. Armour has not been spotted in the area (it would have been difficult to smuggle in) but expect a highly motivated, well geared enemy.
Equipment:
RG will have the following available:
10+ Snatch Landrovers

5x Panther CRV

2x Wildcat (Unarmed)

1x Littlebird (unarmed)

Various supply crates

Ammo and refuel truck
MISSION
----------------------
Operational Plan
As per command

Squad operational intent
Gambler
Save Civilians in Stocken, Suttorf, Oetzen and Dormte

Record evidence of ION involvement

Clear above towns if possible
Talon
Manage the transportation of reinforcements and resupply.

Provide Recon
Vegas
Classified, Vegas Personnel Only
ROE: Tight


COMMAND AND CONTROL
----------------------
Capt.Stabcon will be in direct control of the RG Task Force operation.



Signups are now open and it is mandatory to RSVP or post LOA