@

Breacher

(Fri 12 Jan 18 - 16:16)

DCS F18 is available for pre purchase
@

Andrews

(Sat 13 Jan 18 - 10:46)

Welcome to the Reality Gaming Task Force Mathewzob. View Mathewzob's Profile
@

Daveo1996

(Sat 13 Jan 18 - 20:12)

Alot of mod updates today, server out of date
@

Andrews

(Sun 14 Jan 18 - 17:46)

Another year together in the RG family. New years meeting soon. Looking forward to catching up with everyone

@

T.Perkins

(Sun 14 Jan 18 - 18:00)

https://www.twitch.tv/viodugir for if anyone cant make it to the mission, or just wants to watch it back from Cutlass POV
@

Mozzy

(Sun 14 Jan 18 - 21:14)

Thanks for playing tonight guys, sorry if there were any issues
@

Thehelloguy

(Sun 14 Jan 18 - 21:16)

Super fun mission for sure, maybe the most stressfull mission as an engineer clearing some of the mines were tense

@

Andrews

(Mon 15 Jan 18 - 17:20)

Welcome to the Reality Gaming Task Force Lukepatchy. View Lukepatchy's Profile
@

shrap

(Mon 15 Jan 18 - 20:34)

Just arrive back in Europe....... Jet lagged though....

@

Andrews

(Mon 15 Jan 18 - 20:39)

Free game lads: https://www.humblebu...he-red-solstice
@

Andrews

(Tue 16 Jan 18 - 00:00)

Welcome to the Reality Gaming Task Force Williamhah. View Williamhah's Profile
@

stabcon

(Wed 17 Jan 18 - 09:22)

Heads up to all that RHS updated. Nothing new to get excited about. Lots of bug fixes

@

Helios

(Wed 17 Jan 18 - 12:25)

Mods on server updated (thnx for the heads-up!), however I can only updated the keys of the server once home so that'll be done around 16.00 GMT

@

Andrews

(Wed 17 Jan 18 - 18:26)

Welcome to the Reality Gaming Task Force Mereck. View Mereck's Profile
@

Guss

(Thu 18 Jan 18 - 17:01)

It's been a very long time, but finally got time to put some old footage back together. Not easy with the crazy bad internet connection. Mayham
@

Andrews

(Fri 19 Jan 18 - 07:51)

Welcome to the Reality Gaming Task Force Shawznix. View Shawznix's Profile
@

shrap

(Fri 19 Jan 18 - 17:24)

anything happening tonight ?

@

The Icarus

(Sat 20 Jan 18 - 13:30)

Posted advertisement on Reddit: https://www.reddit.c...sk_force_rg_50/
@

The Icarus

(Sat 20 Jan 18 - 13:30)

Please go give it an upvote!

@

Andrews

(Sat 20 Jan 18 - 15:28)

Welcome to the Reality Gaming Task Force Simms10. View Simms10's Profile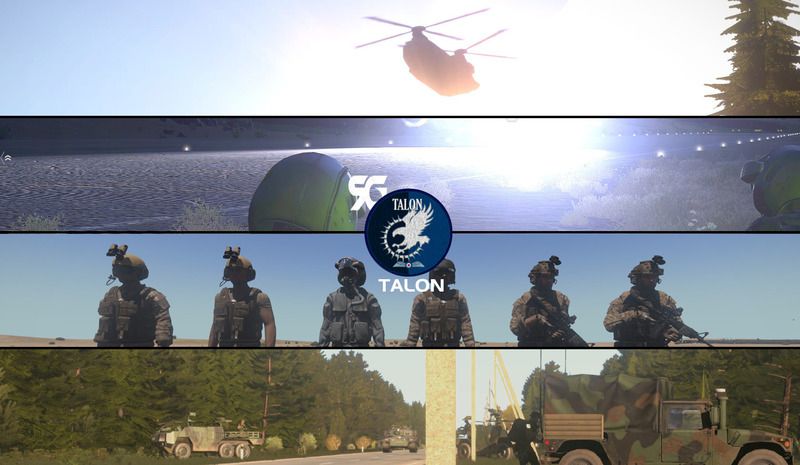 TALON
Combined Support Group
Who are we?

The Combined Support Group (Talon) operates all assets that are outside the remit of traditional infantry combat to enhance the experience of the RG Task Force. We are trusted to operate equipment that has a higher-than-normal probability of directly contributing to each member's milsim experience at RG and we reward this trust with the utmost professionalism and discipline when operating this equipment, whilst trying to maintain a friendly and approachable demeanour.
Our remit:
-To provide the Task Force with considerate, precise and disciplined heavy fire support.
-Aerial support and logistics support as required by the mission.
-This could range from Mortars, Javelins and Humvees to Main Battle Tanks and Aircraft.
-To use all equipment in a responsible, controlled and considerate manner.
-To provide atmosphere, authenticity and firepower to RG missions.
Applying to join:

If you're looking to drive around in tanks and blow stuff up then this unit is NOT for you. We want people who have a real desire to create an immersive and interesting experience for the other members of RG. We carry a lot of responsibility and trust on our shoulders and as such, all members must have a professional attitude, self-discipline, a willingness to learn and a desire to improve the experience of other members of RG.
Available Ranks:




Cadet

The initial rank all new recruits take upon entering Talon. Once your four week trial is complete and you have shown competence/improvement in all areas you will be promoted to Specialist.




Specialist

The most common rank within Talon. Specialists are experts in their chosen field. They can command a team and work to a high standard without support.




Technician

A senior NCO within Talon. These members are the voice of Talon and act as liaisons between Talon and other units within the Task Force.




Staff Sergeant

The Senior NCO in charge of Talon.
Video Content:
Talon Support Group